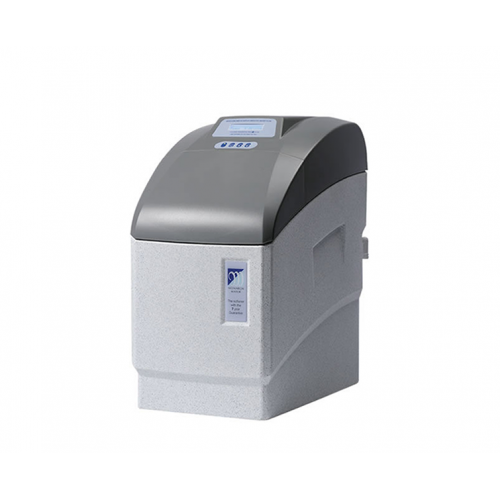 Monarch Mini Aqua Series Water Softener
Free 15mm Installation Kit
Specification

Litres of Solvent Free Resin: 11
Salt Use per Regeneration (kg): 0.9 - 1.6
Flow Rates - lpm*
Standard kit/ Maxflow-PSK: 25/83
Dimensions (mm): 515x275x460
Full Dimensions (HxWxD): 515mm x 275 x 460

At the heart of our MiniAqua models is the Integrated Metering System (IMS) which measures the water used and regenerates to individual household requirements.

The fully automatic IMS also:
Delays regeneration until 2am - a time when little, if any, water is being used

Utilises Proportional Salting - regenerates only the resin that is used.

Stores data in the event of a power cut

Learns and remembers your water usage patterns to make considerable savings on both salt and water use.

Detects leaks in your plumbing system

Initiates an additional regeneration if ever required





Other features of the MiniAqua range include:
- Flow rates up to 90 litres per minute - suitable for all types of plumbing systems

- Alternating display between remaining soft water capacity and current time of day

- Easy push button set up - only takes a few seconds

- Automatically adjusts to your water usage

- Safe low voltage electronics

- Water and salt saving features

- High efficiency Food Grade Resin

- CE Approved

- 5-Year Guarantee

- Removes existing scale and prevents new scale forming

- Protects your appliances including dish washer, washing machine and shower

- Kinder to your skin and saves you money
Model Selection Guide:
Hard Water*

Very Hard Water**

1-3

MiniAqua or Midi

Midi

1-5

Midi

Midi

1-7

Midi

Master
*Hard Water = up to 350ppm. **Very Hard Water = between 360-450ppm
Family size is based on allowing 160 litres per person per day (35 gallons)
Models

Litres of Solvent Free Resin

Salt Use per Regeneration (kg)

Flow Rates - lpm*
Standard kit/ Maxflow-PSK

Dimensions
(mm)

MiniAqua

10

0.9 - 1.6

25/83

515x275x460

Midi

14

1.0 - 1.9

25/78

585x275x460

Master

18

1.6 - 3.0

25/78

735x275x460
*pressure drops: 25-lpm/0.2bar, 35-lpm/0.3bar, 50-lpm/0.6bar and
70-lpm/1.2bar, Suitable for 15, 22 and 28mm systems.
Monarch Mini Aqua Series Water Softener