Scalemaster Softline 450 HF Water Softener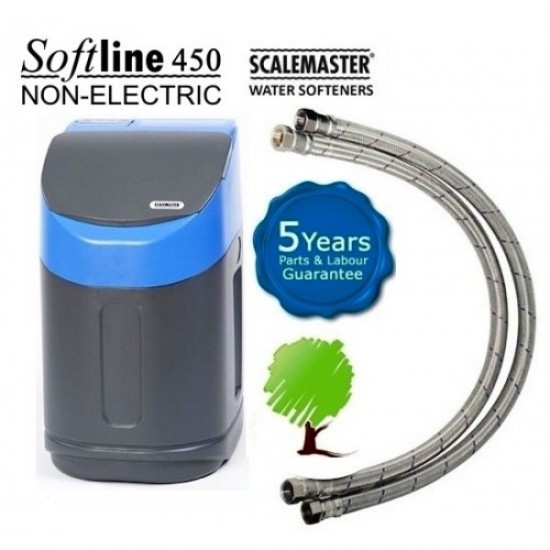 Scalemaster Softline 450 HF Water Softener
SCALEMASTER SOFTLINE 450 NON ELECTRIC WATER SOFTENER. A 9 litre non electric water softener at a fantastic price.
Comes Complete with registered design bypass with integrated non-return valve and Hi-flo hoses making this unit suitable for Conventional, Megaflow, Unvented and pressurised systems with easy clip install process.
* Installation kit includes components you need to install on...
- Combi Boiler
- Unvented System
- Pressurised System
- Megaflow System
- Gravity Fed System
FREE HI FLO HOSE
Non electric.
33 litres a per minute.
Max peak flow rate 50 litres per minute.
3/4" connectors.
10 litre.
Carbon Neutral.
24 mins regeneration time.
Only £810 inc vat and delivery
Softline 450 water softener
Height - 573mm
Width - 330mm
Depth - 574mm (including Connectors)
THE BENEFITS OF SOFTENED WATER

• Protect your water using appliances
• Saves money on detergents and cleaning materials
• Reduces cleaning time
• Cleaner, brighter laundry

CLEVER YET SIMPLE

The 450 Model incorporates advances technologies and manufacturing techniques to deliver softened water more simply, cheaply and efficiently than ever before and this is achieved by:

• Non-electric operation – no cables or sockets needed
• Quicker regeneration times – as little as 24mins
• Revolutionary 'Clip-connection System'
• Compact design

QUALITY AND RELIABILITY

The 450 model uses ultra-fine resin which allows vessels to be much smaller than in equivalent conventional units. They also incorporate a revolutionary 'clip-connection' system, which, with its patented design bypass valve, ensure quick and easy installation, replacement and servicing of parts.

To ensure reliability, all water softeners are 'wet tested' before leaving the factory so you have the utmost confidence that your new water softener will deliver quality, softened water for many years to come.

BETTER FOR THE ENVIRONMENT

The advanced technology of the Scalemaster Softline range makes your new water softener one of the most efficient and environmentally friendly water softeners on the market.