Scalemaster Softline 150 Non Electric Water Softener - Free Hi-flo Hose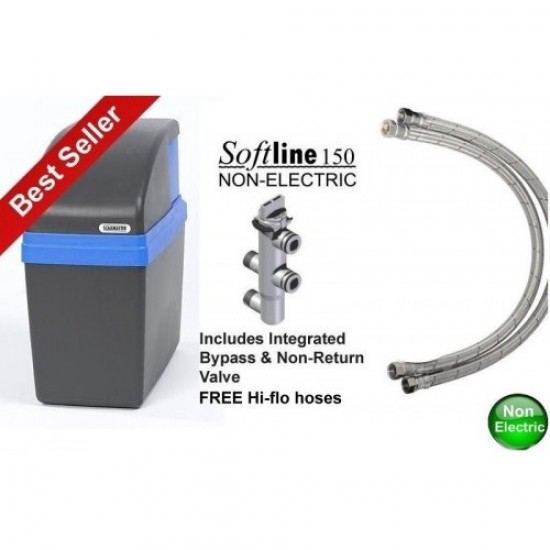 Scalemaster Softline 150 Non Electric Water Softener - Free Hi-flo Hose
Scalemaster Softline 150 present a fresh approach to the world of domestic water softeners for the UK market. Based on proven technology, the Scalemaster Softline units are non - electric (so there are no problems with part P compliance), yet they are still fully automatic
Comes Complete with registered design bypass with integrated non-return valve and 22mm Hi-flo hoses making this unit
suitable for Conventional, Megaflow, Unvented and pressurised systems with easy clip install process.
5-year Parts and Labour Guarantee
Installation kit includes components you need to install on...
- Conventional vented system
- Combi Boiler
- Unvented System
- Pressurised System
- Megaflow System
SCALEMASTER WATER SOFTENERS present a fresh approach to the world of domestic water softeners for the UK market. Based on proven technology, the Scalemaster Softline units are non - electric (so there are no problems with part P compliance), yet they are still fully automatic.

The Softline operates purely through the hydraulic pressure of the incoming water whether it comes from the mains or from a well. The Softline has no motors and no wires, they just do not need them! The moving parts are operated by dynamic pressure and will operate from as little as 0.8 bar.

Installing the Softline could not be easier. All Softline water softeners come with the patented Scalemaster, integrated bypass which has a built in non return valve. This, along with it's innovative 'clip system' reduces the amount of connections to be made and the time taken to install the Softline.
The Softline is also friendlier than other water softeners on the environment. The advanced technology of the Softline means that it will only use approximately 330 grams of salt and 18 litres of water every time it regenerates. This gives the Softline a salt usage of less than 4% which means that not only is the Softline one of the most environmentally friendly water sof-teners on the market, it also has a carbon neutral footprint*.

The Softline water softener has been specifically designed for use in the average UK home. It is small and compact, taking little valuable kitchen cupboard space. At only 484mm high it will sit comfortably in a standard kitchen unit.
Key Features

1. NON - ELECTRIC: The Scalemaster Water Softener works entirely without electricity.
2. EASE OF INSTALLATION: Far simpler than existing water softeners to install due to its simple and unique 'clip' design.
3. MINIMAL PROGRAMMING: Just set the water hard-ness for your area and the Scalemaster is ready for use.
4. COMPACT DESIGN: Designed to fit into a standard kitchen cabinet and other areas where space is at a premium.
5. QUALITY TESTED: Every Softline water softener is wet tested before leaving the factory and, with WRAS approval gives peace of mind on the quality & per-formance of our products.
6. HIGH FLOW RATES: Nominal flow rate (1 bar loss of pressure) 25 litres per minute.
7. ENVIRONMENTALLY FREINDLY: Designed to use only 300gr salt and 20 litres of water during regeneration.
8. LESS CHANCE OF CORROSION: Composed entirely of synthetic material of very high quality means that all components are free of corrosion and the appliance is not affected by the corrosive effects of the water being treated.

Why choose the Softline 150?

The Scalemaster Softline 150 has taken proven tech-nology and making it better! The Softline 150 has been designed to be easier to install and operate than other water softeners on the market through the use of an innovative 'clip-connection' system and a pat-ented design integrated bypass valve.

Once plumbed in, the unit is set for water hardness by simply adjusting a dial. The unit is then ready to give you quality softened water.

Your Softline 150 will deliver quality softened water at a flow rate of up to 25 litres per minute with a pressure drop of just 1.0 bar, which makes it the perfect choice for the typical modern family and home: Two adults with two children each using 150 litres per day

It's compact size makes it perfectly suited to the UK market enabling fitting under the sink in a standard kitchen unit, and because it is non - electric, there is no need for an electrician to fit a an extra socket!
SOFTLINE 150 - FEATURES & BENEFITS

* Suitable for up to households of up to 5 people
* The Softline 150 is a new, single cylinder, non electric water softener which is only available through Scalemaster.
* It has a modern stylish exterior and with it's compact size is perfectly suited to the UK domes-tic water softener market.
* Regeneration takes only 12 minutes and is 'on demand'
* Being non - electric there are no cables or electrics which means there is no need for extra electrical work.
* Using only 330 grams of salt and 18 litres of salt each regeneration means it is very efficient and economical to run.
* A unique 'clip-connection' system and registered design bypass with integrated non-return valve makes installation quicker and easier.
* At only 470mm High it will fit in the tightest of spaces
* The Softline 150 has a custom made 3.3 litre resin vessel with integrated top and bottom screens.
* Manufacture of the Softline 150 uses a patented resin filling process which ensures that the resin bed is fully packed to give the optimum regenera-tion efficiency.
* The combination of integrated screens, packed bed technology and use of an ISO-Standard resin allows efficient softening at a high water flow rate, ( and low pressure drop), unachievable by many other softeners.
* Each Softline 150 is wet tested before it leaves the factory to ensure quality & reliability.
* Will take granular, tablet and block salt

TECHNICAL DETAILS IN BRIEF

Dimensions
| | |
| --- | --- |
| Width | 240mm |
| Height | 470mm |
| Depth (Including Bypass) | 535mm |
| Depth (Excluding Bypass) | 464mm |
Technical Specification
| | |
| --- | --- |
| Resin Volume | 3.3 Litre |
| Connections | 3/4" |
| Minimum Water Pressure (Dynamic) | 1.0 Bar |
| Maximum Water Pressure | 6 Bar |

Service Data

| | |
| --- | --- |
| Nominal Flow Rate (1 Bar Pressure Drop) | 25 litres per minute |
| Maximum Flow Rate | 42 litres per minute |
| Exchange Capacity | 750 Litres |

Regeneration Date

| | |
| --- | --- |
| Salt Consumption | 330 Grams |
| Water Consumption | 18 Litre |
| Duration of Regeneration | 10-12 Mins |
BETTER FOR THE ENVIRONMENT

The advanced technology of the Scalemaster 150 makes your new water
softener one of the most efficient (environmentally friendly) water
softeners on the market.

The Softline 150 uses only 330 grams of salt and 18 litres of water (less
than 4%) per regeneration which meets the Minimum Performance Level
Requirements for Water Efficiency defined by the Code for Sustainable Homes
published by the Building Research Establishment.

Through its combination of the use of a packed resin bed, patented resin
filling process, patented brine valve system, integrated screen filter
screens and use ofhigh grade ISO Standard resin, the Softline 150 delivers
quality softened water economically and efficiently at high flow rates.