Monarch Mini Aqua HE Water Softener - 22mm Hoses Combi Pressurised Kit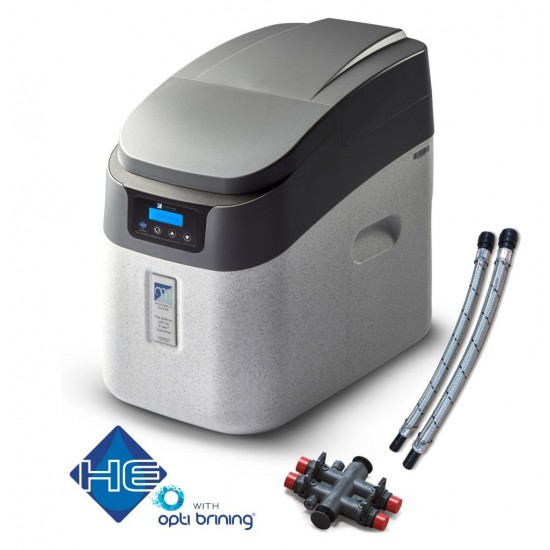 Monarch Mini Aqua HE Water Softener - 22mm Hoses Combi Pressurised Kit
Monarch Water's NEW 2019 High Efficiency (HE) Mini Aqua With Opti-Brining

®
Monarch HE Range benefits include:
- Greater exchange capacity Unique HiEx resin with Opti-Brining®
- Easy install Hi-Flow, Rapid-Fit bypass as standard

- Sustainable Uses up to 24% less water and 12% less salt per annum
- Fast 8 minute mini top up regeneration
- Compact 28mm shorter
- Free flow valve technology The highest flow rates with the lowest pressure drop
- UK specific Designed exclusively for the UK market
- Dimensions: 480H x 270W x 485D

All figures relate to the new Midi HE, compared to previous models, based on a three person household.
Opti-Brining

®

for sustainable softening
Opti-Brining® is Monarch Water's unique, new system to manage water within its next generation of HE water softeners.
The intelligent Opti-Brining® component continuously monitors the softener's activity and water usage, regenerating only when necessary, to save more water, salt and energy than previous generations.
Opti-Brining® technology offers higher exchange capacity, higher flow rates and reduced water consumption during regeneration. With up to 46% greater capacity per regeneration than previous units for a truly sustainable future.

Hi-Flow Rapid-Fit bypass for easy installation

The NEW HE range of water softeners all feature Monarch Water's NEW Rapid-Fit bypass which has reduced 85% of the components needed when installing a water softener.
Available for 15mm, 22mm and 28mm supplies, the Rapid-Fit also has 3/8" connections for both hard and soft water tee points. It also features a 1" high flow check valve built into the body to comply with WRAS guidelines, giving an impressive flow rate of 80lpm.
With Monarch Water's NEW Rapid-Fit bypass, installers simply connect the water in and out from the mains supply, then connect two hoses to the softener for quick and easy installation.
Additional Features
- The highest flow rates of any softener available - up to 78 litres per minute
- Easy view control panel with back lit display, removable front cover
- Easy push button set up - only takes a few seconds

- Unique Self Protect Program that:
Delays regeneration until 2am

Stores data in the event of a power cut

Initiates an additional regeneration if ever required + 8 minute mini top up

Learns and remembers your water usage patterns to make substantial savings on both salt and water use
- Safe low voltage electronics via plug-in transformer (supplied)
Detects leaks in your plumbing system
- Meter control with intelligent Opti-Brining as standard - only regenerates the resin that has been used
- Opti-Brining® with HE resin. A winning combination giving up to:
46% greater capacity

24% less water use

56% salt saving over conventional softeners
- CE Approved
- The UK's only softener range suitable for 15, 22 and 28mm supplies
- Automatically adjusts to BST and GMT time changes
Installation Requirements:
Water pressure: 1.5 - 5 BAR

Operating temperature: 2 - 49C.

Electrical supply: 3-pin socket. Drain facility.

If using Maxiflow hoses please allow an extra 18mm to depth.

If using 28mm system please allow an extra 25mm depth.
Choose from:
Standard 15mm Hose Kit for use with conventional hot water cylinder & loft mounted cold storage tank.
OR
Combi Maxiflow 22mm Hose for use with combination boiler systems & pressurised systems.
OR
Ultraflow Hose Kit for 28mm applications.
Warranty
7 Year parts guarantee (2 Year labour guarantee)*
The below postcodes are automatically covered by a parts and labour warranty as set out in the relevant sales brochure for the individual model/range.
| | | | | | | | | | |
| --- | --- | --- | --- | --- | --- | --- | --- | --- | --- |
| B | BA | BH | BN | BS | CB | CM | CO | CT | CV |
| DN | DT | GU | GL | HP | IP | LE | LU | All London Postcodes | LN |
| ME | MK | NG | NN | NR | OX | PE | PO - Mainland Only | RG | RH |
| SG | SL | SN | SO | SP | SS | TN | | | |
Important! Water softeners sold outside the above counties are to be covered strictly by a parts only "exchange" warranty as determined by the model/range of softeners i.e. Midi with 7 years parts*